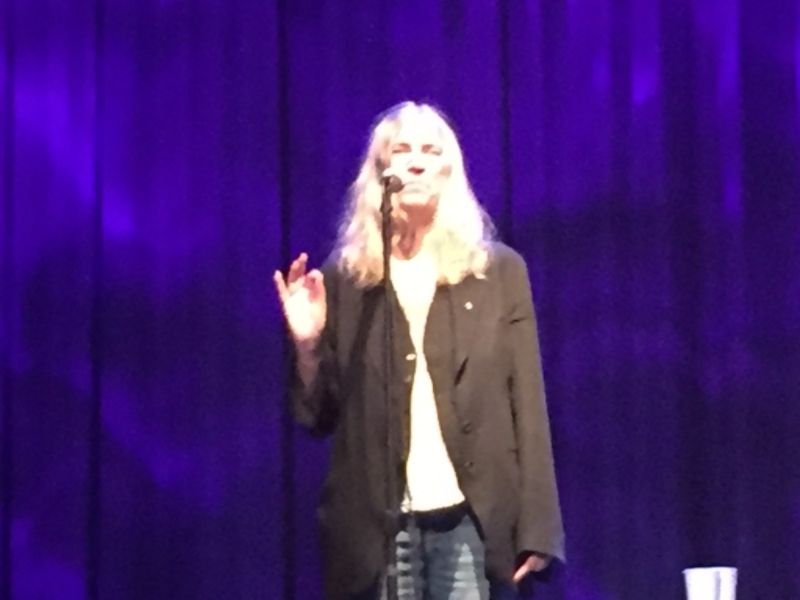 I was fortunate to get one of the last tickets left to see and hear Patti Smith at her book reading and signing a couple of weeks ago in Santa Cruz, CA. I will never forget this experience.

600+ of us waited patiently in line outside Santa Cruz's historical Rio Theater for the event. All in good spirits. We were lucky. It was a temperate night.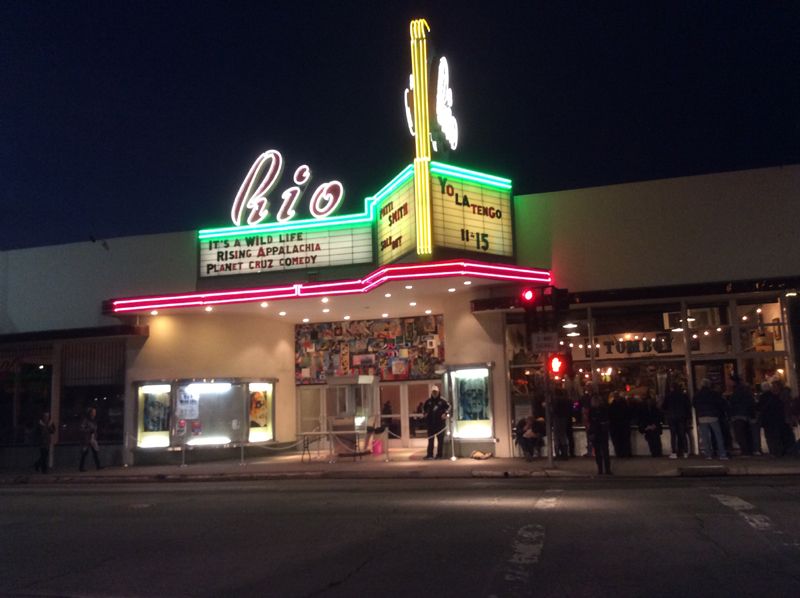 In the fifth row we waited in anticipation of Patti's reading of her new book M Train.

Patti sauntered out onto the stage with three cups in hand and a book. How did she manage that? She apologized for being a little under the weather. She was just getting over bronchitis. And she had tea, water with lemon and coffee with water to get her through the evening.

She said that she arrived in Santa Cruz that day and got to walk along the wharf and say hello to the seals (harbor seals hang out at our wharf), and have a lukewarm clam chowder. Hmmmm. Wonder which vendor didn't serve her hot chowder. ????

Patti then began to read excerpts from M Train….probably 10 of them. She said that she wanted to write "an irresponsible book about nothing in particular." She has a way of reading. She has a good sense of humor and an uncanny way of connecting with her audience. As I read this book I will try to hear her voice in the words. Of course, I won't be able to add her extra comments along the way.

After her readings she took questions from the audience. The most interesting of questions (or I should say answers) was "Where were you when you wrote the last chapter of Just Kids?" Unfortunately, I didn't take notes on this so I can't tell you the exact quote. But basically, she began by saying that she has a good friend, Johnny Depp, who has a house in the south of France. He offered to let her stay there to write the last chapter. She stayed in the chapel. And she said that Johnny would leave a tray of food on the ground outside her door and then walk away.…..(obviously not wanting to disturb the writer).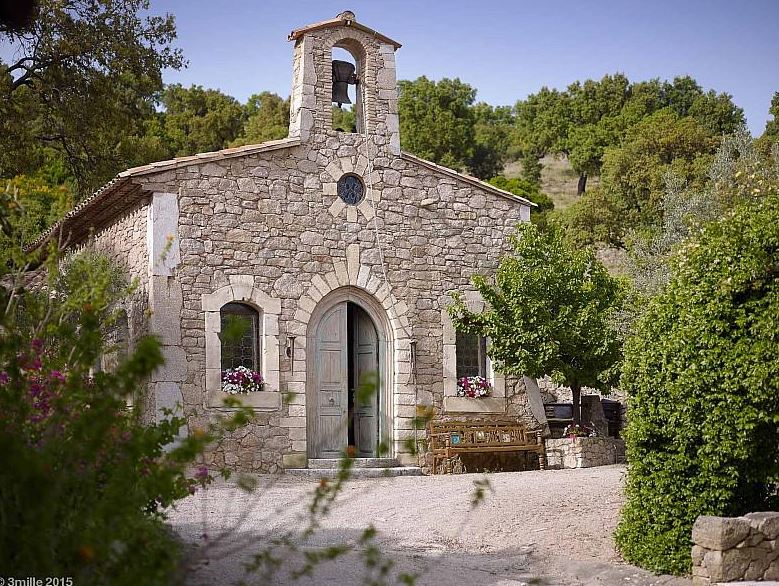 Another thing I found interesting.....Patti has several novels that she's written, but just hasn't done anything about publishing them.

Right now you are probably thinking what an incredibly fantastic evening! But it gets better.

Instead of signing our books individually (which she did ahead of time—so we still got her signature) she took that time to sing some songs. It was totally unexpected and the audience went wild. She was accompanied by an excellent acoustic guitarist and backup singer. Wish I could remember his name.

Patti began with a ballad to her daughter Jesse. Don't know the name of that either. If someone can clue me in, please do. It was beautiful.

The other three songs she sang were Beneath the Southern Cross (dedicated to those who perished in Paris), Dancing Barefoot and Because the Night.

Patti's voice was amazing. Beautiful, clear, effortless, soulful, mesmerizing.

And then to top it off, she complimented our little theater, in which she's performed at least a couple of times before. She said that she has performed all over the world, in countless different venues and sometimes you just have to make do with what you get. But sometimes you come across "a real jewel" and the Rio is it! She pled with us to fight for the Rio (which opened its doors in 1947) if it should ever be threatened with demise. She's coming back to the Rio to perform on January 2. Unfortunately for me, her show is sold out. But I can't complain because I got the best of both worlds…..a reading and a musical performance.

Doesn't get much better than that.