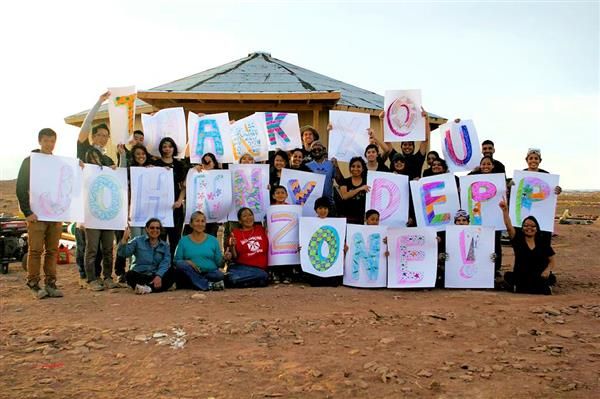 On behalf of all of us at Project Pueblo, THANK YOU so much for the VERY generous donation to Project Pueblo!!! We are so excited and humbled by the generous donation from everyone at the Johnny Depp Zone, and we are so privileged that you chose us again for the Birthday Project!!! It is such an honor, and we can assure you that the donations will be spent to directly impact the lives of the Navajo families we serve to improve their living conditions.
I was able to help coordinate a trip that is currently on the reservation this week in Cameron, AZ that is working with Larry Gordy (who is featured on the audio slideshow and the LA Times article that was posted on your website) to help build him a foundation and help his sister build a new roof.
I attached a link to the article here, which gives a great background on Larry and his family:
The trip this week is composed of 20 volunteers who will be there until Sunday, June 30, and they are currently digging out a trench out of rock to pour cement into over the next few days for Larry's foundation. Larry has a ranch, and he used to work as a construction foreman on many projects in California, Nevada, and Arizona. Although he has always built homes for other people, he was never able to build a home for his family due to the Bennett Freeze. One of his dreams was to build a home for his family, and we are so excited to be able to help him achieve this! Also, his sister's roof has had some severe damage over the years, and it was leaking and not functioning. Volunteers ripped the roof off on Sunday, and they are rebuilding it this week as well! If there is time, the volunteers may also work on other projects we have in the Cameron area. Over the next year, we would like to help Larry as much as we can to complete his home!
Also, we will be fitting our existing water systems with new water pumps over the next several months, which will enable the families we have installed systems for to have a much easier time to get water in their tanks. This is a direct result of your generous donations!! We have some trips scheduled later this year to build more water systems and update the ones we currently have installed, and we will certainly update you with pictures as the projects happen.
I just wanted to say thank you and I wanted to add a picture we took on our last trip in March to say THANK YOU to everyone at JD Zone! This trip was when we built a hogan for Thomasina Nez and her family, and I was privileged to attend and lead that trip. Also, here is a video that showed Thomasina's reaction after we build the hogan--the Navajo people are SOO thankful for your help--we wouldn't be able to complete projects like these without your support!!! It is really amazing to see finished projects and how happy the families are that we are able to help, thanks to people like you!!!
Sincerely,
Ryan Wycliffe
[youtube]B-QTq5Y_Sfc[/youtube]