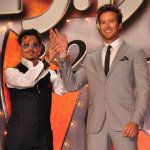 Johnny Depp received a 2013 Teen Choice Award nomination as Choice Movie Star: Male for his performance as Tonto in The Lone Ranger. Other nominees in the category include Henry Cavill for Man of Steel, Dwayne Johnson for Fast & Furious 6, Chris Pine for Star Trek Into Darkness, and Channing Tatum for White House Down.
Johnny and Lone Ranger co-star Armie Hammer were nominated in the Choice Movie: Chemistry category. They face competition from Sandra Bullock and Melissa McCarthy in The Heat; Don Cheadle and Robert Downey Jr. in Iron Man 3; Vin Diesel, Dwayne Johnson and Paul Walker in Fast & Furious 6; and Jamie Foxx and Channing Tatum in White House Down. Congratulations to Johnny and Armie!
Fans ages 13-19 can vote once each day per category for their favorite TEEN CHOICE 2013 nominees HERE. Voting ends at 11:59 PM PT on Saturday, Aug. 10.
The Teen Choice Awards 2013 will air on Fox on Sunday, August 11, 2013 from 8 to 10 p.m.
The Zone thanks FANtasticJD for sharing the news; you can read more about the 2013 Teen Choice Awards on the Zone's News & Views forum.