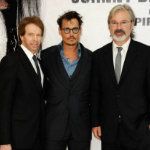 Producer Jerry Bruckheimer, director Gore Verbinski, and actors Johnny Depp, Armie Hammer, Ruth Wilson, Tom Wilkinson, and Harry Treadaway met the British press to promote The Lone Ranger on Monday, July 22. While some of the questions trod familiar ground, journalists did venture into fresh territory, as when one reporter asked Johnny about the impact of his role as one of The Lone Ranger's executive producers.
Q: Johnny, you are Executive Producer on this. I wondered what sort of benefits that brought you in terms of decision-making? And Jerry and Gore, how did that affect your relationship with Johnny?
JERRY BRUCKHEIMER: Well, I think he got to the craft service line ahead of everybody else. (Laughter) So I think that worked for him.
JOHNNY DEPP: Yeah. And I got a chair. (More laughter) And a trailer. Coffee, occasionally. (He chuckles, and then grows serious.) You know, the executive producer credit was a beautiful gesture from Jerry, just out of the kindness of his heart, to hand me that title. Primarily because we were all in it from the very beginning. As I said before, from the very seed of the project, we were all in there, in all the script meetings and whatnot, and that, for me, was plenty — that was beautiful, to be welcomed into that part of the process. But then for Jerry to give me that title was . . . yeah, that was quite a shock. So basically, what I'm saying is, I didn't do anything.
JERRY BRUCKHEIMER: That's not quite right, because it wasn't an honorary thing. It was something that . . . he [Johnny] brings so much creativity to the process, and to have him in, in the script meetings early on, conceptualizing the character — his character and other characters — it helps us so much, because he's got such a wealth of creative knowledge that he puts layers on the script and the story. It was a pleasure to bring him in really early, and creatively it was fantastic for the movie.
The Zone thanks Theresa for sharing video of the UK press conference; a larger photo of Jerry, Johnny and Gore is available HERE. You can read more about The Lone Ranger on the Zone's News & Views forum.