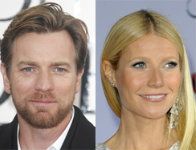 Gwyneth Paltrow and Ewan McGregor are in talks to join Johnny Depp in the crime caper Mortdecai, which will be directed by David Koepp. Variety reports that Lionsgate is "fast-tracking the project with a high-profile team." According to Variety, Mortdecai will go into production late this fall, after Johnny finishes Rob Marshall's musical Into the Woods. Paltrow, an Oscar-winner for Shakespeare in Love, was most recently seen playing Pepper Potts in Iron Man 3; McGregor will be seen in August: Osage County (with Julia Roberts and Meryl Streep) this fall.
Mortdecai is based on a series of books by Kyril Bonfiglioli. Roguish art dealer Charles Mortdecai is in a race to recover a stolen painting rumored to contain the code to a lost bank account filled with Nazi gold.
Andrew Lazar is producing Mortdecai with Infinitum Nihil's team of Johnny and Christi Dembrowski.
You can read more about Mortdecai on the Zone's News & Views forum. The Variety article is available HERE.