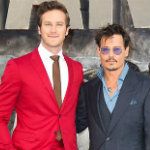 In a video interview with the BBC at the London premiere of The Lone Ranger, Johnny Depp responded to critics who assert that his Tonto is "another quirky character like Captain Jack Sparrow" — in other words, just Captain Jack on dry land. "There are a lot of differences between Captain Jack and Tonto," Johnny said. "Captain Jack needs other people to manipulate to get what he wants. He couldn't — he wouldn't work on his own. Tonto is sort of a lone wolf. If there are any similarities at all, I suppose it's just because it's born out of my head."
Asked if he was "disappointed" in the film's performance at the U.S. box office, which "hasn't lived up to many people's expectations," Johnny replied, "No, because I don't have no expectations . . . but other people do. I think critics were especially upset that it didn't really tank. I think they were hoping it would really take a dive." The Lone Ranger has currently earned more than $81 million in North America and almost $150 million worldwide.
The Zone thanks emma for sharing the BBC interview; you can read more about The Lone Ranger's London premiere on the Zone's News & Views forum.