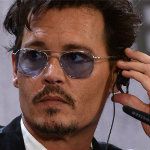 In the photo at left, Johnny Depp listens to the translation of a question put to him by the Russian press corps as he, co-star Armie Hammer, producer Jerry Bruckheimer, and director Gore Verbinski held a press conference in Moscow to promote Disney's The Lone Ranger today. This marks Johnny's second visit to Russia — he also went to Moscow with Jerry Bruckheimer and Penelope Cruz to promote Pirates of the Caribbean: On Stranger Tides in 2011, and was very warmly received.
During an interview on Russian television, Johnny explained the meaning of a number of his tattoos, including a new one on his arm that features a drawing of a man with a quotation from Much Ado about Nothing ("Man is a giddy thing") beneath it. The artwork is by Johnny's son Jack. Sweet! Photos of Johnny greeting the press (including a close-up of the new tattoo) are available HERE.
The Zone thanks Evochka, Aida, and humiliatedgrape for sharing photos. You can read more about Johnny's visit to Moscow on the Zone's News & Views forum.