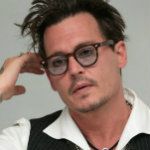 In a candid and relaxed video interview with Extra's Terri Seymour, Johnny Depp addressed, among other subjects, the breakup of his 14-year relationship with Vanessa Paradis (which was officially announced one year ago). The interview took place during The Lone Ranger press junket at Bishop's Lodge resort in Santa Fe, New Mexico. Here's a transcription of that conversation:
Q: You also have spoken recently about becoming single. Has that been a strange adjustment for you?
JOHNNY DEPP: You know, the strangest thing is just that — in terms of adjustment — is just making sure that everybody's okay. That's really everything. You make sure first your kids are okay, and that they understand that it's normal; there's no reason to get sort of weird and hate each other. I think, you spent a beautiful 14 years together, you know . . . a couple of great kids. That's win-win.
Q: In Rolling Stone, you said you can't see yourself acting in ten years' time. Please tell me that's not true! You're not going to go into retirement, are you?
JOHNNY DEPP: (slowly) Nah . . . I don't know about retirement. I do love the process, I really do love making characters and making movies. But . . . yeah. I mean, sometime in the next ten years, you probably just want to kind of . . . be able to look around a little more. Wander a bit, you know. Maybe experience some degree of anonymity somewhere, or —
Q: Do you think that would ever be possible?
JOHNNY DEPP: — Or fish. Or . . . I don't know.
Q: So, you are amazing as Tonto. How much fun was it for you to play him?
JOHNNY DEPP: Oh, it was great fun. Great fun. Because there are so many different sides to the character.
The Zone thanks emma for sharing the video; you can read more about The Lone Ranger on the Zone's News & Views forum. The full Extra video interview is available HERE.