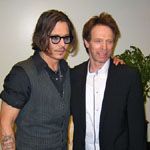 Cheers to super-producer Jerry Bruckheimer, who will receive the 2,501st Star on the Hollywood Walk of Fame in a ceremony on Monday, June 24 at 11:30 a.m. Guest speakers at the ceremony will be Johnny Depp, star of Mr. Bruckheimer's Pirates of the Caribbean franchise and the upcoming The Lone Ranger, and Bob Iger, Chairman and CEO of the Walt Disney Company. Wow!
Mr. Bruckheimer's star will be located at 6838 Hollywood Boulevard in front of El Capitan Theatre — an ideal place for a man whose films have earned six Oscars and 41 Academy Award nominations (to date). "Millions have enjoyed Jerry Bruckheimer's films and television productions. His blockbuster movies continue to transport audiences around the world into his fascinating productions," stated Leron Gubler, Hollywood Chamber of Commerce President/CEO and emcee of the star ceremonies. "We are proud to have him be a part of our legendary Walk of Fame!"
The Zone thanks emma for sharing the news; you can read more on the Zone's News & Views forum.
Congratulations to Mr. Bruckheimer on this well-deserved honor!