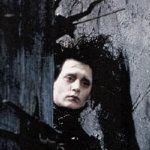 The character Johnny Depp created in 1990's Edward Scissorhands has already attained cinema immortality; now it has achieved scientific immortality for Johnny as well. A 505-million-year-old fossil discovered recently has been named Kooteninchela deppi because of its scissor-like claws, which reminded the scientist who discovered it of — who else? — Edward Scissorhands and the actor who played him. "When I first saw the pair of isolated claws in the fossil records of this species, I could not help but think of Edward Scissorhands," the scientist, David Legg, said on the website of London's Imperial College. "Even the genus name, Kootenichela, includes the reference to this film, as 'chela' is Latin for claws or scissors."
With charming candor, Legg adds, "In truth, I am also a bit of a Depp fan, and so what better way to honor the man than to immortalize him as an ancient creature that once roamed the sea?" As fellow Depp fans, Legg's choice seems like a perfect tribute to us, since in addition to playing Edward Scissorhands, Johnny has also also achieved cinema immortality for portraying a certain pirate captain, one Jack Sparrow.
When he discovered the fossil, Legg was conducting research into life on Earth during the Cambrian period (when nearly all modern animal types emerged) as part of his PhD program in the Department of Earth Science and Engineering at Imperial College London. You can see an image of Kooteninchela deppi HERE. Legg's research was published in the May 2, 2013 issue of the Journal of Palaeontology.
The Zone congratulates David Legg for his outstanding research and his felicitous choice of name for his discovery. We also thank Theresa for sharing the news; you can read more about Kooteninchela deppi, and see color images of the fossil, on the Zone's Pit General Discussion forum.