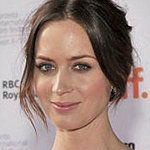 Seems like Rob Marshall has found the Baker's Wife for his upcoming film of Stephen Sondheim's Into the Woods . . . and it's Emily Blunt! Variety reports that Ms. Blunt is "finalizing a deal" to join the Disney film, where she will reunite with her The Devil Wears Prada co-star, Meryl Streep, who will be playing the Witch. The musical's storyline follows the Baker (Tony-winner James Corden) and his wife (Blunt) as they venture into the woods to confront the witch (Streep) responsible for putting a family curse on the childless couple.
Other actors who may be joining the cast include Chris Pine and Jake Gyllenhaal, as self-absorbed, competitive brother-princes who are the love interests of Cinderella and Rapunzel, and The Good Wife's Christine Baranski, who is in talks to play Cinderella's nasty stepmother. With Johnny Depp appearing as the Wolf, this cast is dazzling!
The Zone thanks Lou Lou 63 for sharing the news; you can read more about Into the Woods on the Zone's News & Views forum.