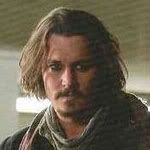 Johnny Depp will get his wolf on for Rob Marshall's upcoming film of Stephen Sondheim's award-winning fairy-tale themed musical Into the Woods! A Disney casting notice officially confirms that Johnny will play the Wolf, too-many-awards-to-count Meryl Streep will play the Witch, and British actor James Corden will play the leading male role of the Baker. Corden won a Tony last year for his work in Broadway's One Man, Two Guvnors. The plum role of the Baker's Wife is yet to be cast, although Disney favorite Amy Adams is rumored to be under consideration.
Rob Marshall, who previously directed Johnny in Pirates of the Caribbean: On Stranger Tides and directed the Oscar-winning musical Chicago, will begin filming Into the Woods in London in September.
The Zone thanks Emma, humiliatedgrape, and suedlib for sharing the news. You can read more about Into the Woods on the Zone's News & Views forum; a Hollywood Reporter article confirming the casting is available HERE.