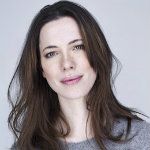 As Johnny Depp films Wally Pfister's Transcendence this week, his co-star Rebecca Hall, who plays Evelyn, is doing double-duty: she's also promoting the blockbuster Iron Man 3, in which she plays Maya Hansen. In a recent interview with the Los Angeles Times, Ms. Hall said this when asked what was "next" on her busy schedule: "Funnily enough, I'm about to go and start another science-fiction film. Not anywhere in this territory at all," Hall said, referring to Iron Man 3. "I mean, it couldn't be further away from this kind of film, but it's a proper movie with Johnny Depp. It's called Transcendence."
And what did Rebecca Hall have to say about this new venture? "It's really great. I love the script. And Wally Pfister's directing it, who's Chris Nolan's [director of photography], and Chris Nolan's producing it." Any plot details? "It's beautiful and very unusual and exciting, but that's all I'm going to say about it for now." Sounds good — and tantalizing . . . .
The Zone thanks Snoopy Dances for sharing the news; you can read more about Transcendence on the Zone's News & Views forum. The full (and delightful) interview with Rebecca Hall is available HERE.