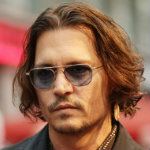 The confusion over which movie Johnny Depp will film next disappeared this afternoon when Johnny's representatives officially confirmed his schedule for the next few months . . . and a busy schedule it is! First up is Transcendence, which is set to begin principal photography in April under the direction of Wally Pfister. Transcendence, which will be released by Warner Bros., will mark the Oscar-winning cinematographer's first time in the director's chair. According to Deadline, Pfister will direct from newcomer Jack Paglen's screenplay, which was developed with Annie Marter, with the most recent draft by Noah Oppenheim.
After Transcendence, Johnny will play the notorious (and still very much in the news) Boston mob boss Whitey Bulger in the film Black Mass, to be directed by Oscar-winner Barry Levinson (Rain Man). Deadline reports that Jez Butterworth is writing a new draft of the screenplay by Mark Mallouk, based on the New York Times best-seller Black Mass: The True Story of an Unholy Alliance Between the FBI and the Irish Mob by Boston Globe reporters Dick Lehr and Gerald O'Neill.
Filming of Black Mass is scheduled to begin in the early summer of 2013.
The Zone thanks Lou Lou 63 for breaking the news; you can read more about Johnny's upcoming film projects on the Zone's News & Views forum. The Deadline article is available HERE; The Hollywood Reporter confirms the news HERE.