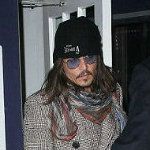 Late Show staff writer Bill Scheft has seen hundreds of celebrity guests occupy the chair next to David Letterman over the years, so it is a real tribute to the unique character of Johnny Depp that Mr. Scheft was so impressed by Johnny's appearance on the February 21st show that he wrote a post on his blog in praise of Johnny. (You can read the entire blog post HERE.) "I think I have a new favorite big-time celebrity," Mr. Scheft writes, and names Johnny.
"Up to yesterday, his greatest quality to me was how much he enjoys talking to Dave. I am beyond charmed by that," Scheft writes. ". . . And until last night, that's what I loved about Johnny Depp. And then I saw him bring out his friend, singer/songwriter Bill Carter, to share home base with him and Dave, then recede in the next act to play some haunting slide guitar, perched on a stool in the well-defined background. Then, when that was done, I watched him smile and shake every hand in the band, the crew, other staffers on the show, and all the way out through the stage door, onto 53rd Street, where hundreds of screaming faces reminded him of who they think he is. Who they want him to be."
You can see photos of Johnny greeting the crowd after the show and signing autographs HERE.
The Zone thanks Emma for sharing the article and Evochka, Emma and Theresa for sharing photographs. You can read more about Johnny's appearance on The Late Show on the Zone's News & Views forum and the Pit General Discussion forum.