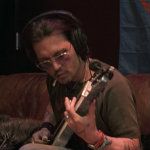 Today Legacy Recordings will release West of Memphis: Voices For Justice, an album of music and songs inspired by the documentary West of Memphis, which chronicles the case of the West Memphis Three. The album serves to raise awareness for the continuing fight for exoneration of the West Memphis Three. The fascinating track listing includes Patti Smith's "Wing," recorded live at the Voices for Justice benefit concert in Little Rock in 2011; a cover of Mumford & Sons' "Little Lion Man" by Tonto's Giant Nuts featuring Johnny Depp and Bruce Witkin; Marilyn Manson's cover of "You're So Vain," featuring Johnny on guitar; Bill Carter's "Anything Made of Paper;" and Johnny reading one of Damien Echols' letters from Death Row over excerpts from the Nick Cave and Warren Ellis score for West of Memphis.
The full track listing is available HERE. According to the Legacy Recordings website, purchase of West of Memphis: Voices for Justice will in part directly benefit the West Memphis Three. The CD is available from Amazon for $9.99.
A selection of photos showing Johnny Depp working on the West of Memphis soundtrack is available HERE.
The Zone thanks humiliatedgrape for breaking the news and BonBon for sharing the pictures; you can read more on the Zone's News & Views forum.