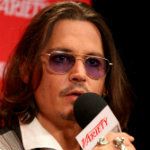 In a recent interview with Patrick Doyle of Rolling Stone, Johnny Depp spoke about the shocking miscarriage of justice in the case of the West Memphis Three. "It's open-and-shut," Johnny declared. "You'd have to have slivers of your brain removed not to see it, man. They got the bummest rap of all time. Your youth's taken away from you."
Johnny has actively worked for years to bring attention to the case, most recently appearing at the Toronto Film Festival to promote the documentary film West of Memphis, which will be released on December 25th.
Doyle also asked Johnny for his reaction to the new Rolling Stones tour. "Of course I'm excited," Johnny replied. "[O]h, man, I can't wait to see them up there again!" Doyle then asked Johnny to disclose a favorite moment spent with friend and guitar god Keith Richards. "For Depp, a serious guitar player, it was when Richards taught him his solo cut 'Make No Mistake,'" Doyle reports: "'Keith gave me the golden chord, man. I couldn't believe it.'"
The Zone thanks Emma for sharing the Rolling Stone interview; you can read more on the Zone's News & Views forum.