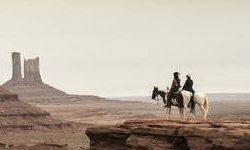 Set your DVR or make plans to watch The Tonight Show with Jay Leno on Tuesday night, October 2nd, because Armie Hammer — the Lone Ranger himself — is one of Jay's scheduled guests. Armie will be following Carol Burnett, and he will be showing a Lone Ranger trailer. Hi-yo, Silver! The Tonight Show airs at 11:35 p.m. on NBC.
The photo above is one of the newly released stills from the film; director Gore Verbinski told USA Today that image captures the moment when "the Lone Ranger and Tonto head out on their journey together. [. . .]This is the first time they make a decision to work as a team." To see a larger version of The Lone Ranger and Tonto in the iconic landscape of Monument Valley, CLICK HERE.
The Zone thanks FANtasticJD for breaking the news and sharing the photo. You can read much more about The Lone Ranger on the Zone's News & Views forum.