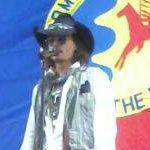 Johnny Depp's appearance at the Comanche Nation Fair included a speech and a question-and-answer session with young members of the tribe; the photo at left shows Johnny at the microphone. He also posed for pictures and signed autographs. "Thank you so much for having me, and thank you for accepting me," Johnny said. Johnny was formally adopted into the Comanche Nation in a traditional ceremony held in Albuquerque on May 16, 2012, with Comanche Nation Chairman Johnny Wauqua in attendance.
At the time of the ceremony, LaDonna Harris, the president and founder of Americans for Indian Opportunity, explained why she extended the invitation to Johnny: "Welcoming Johnny into the family [. . .] was so fitting. He's a very thoughtful human being, and throughout his life and career, he has exhibited traits that are aligned with the values and worldview that Indigenous peoples share." Ms. Harris was at Johnny's side throughout the Fair; Johnny also had a chance to catch up with his Lone Ranger and Rango castmate Gil Birmingham. Photos of Johnny with LaDonna Harris and Gil Birmingham open our gallery HERE, which also includes Twitter photos.
The Zone thanks Evochka, Emma, FANtasticJD, alysha trophy, Christa Taintigh, shaingramm22, biia cailini and Casey Ivanoff for sharing pictures. You can read more about Johnny's visit to Oklahoma on the Zone's News & Views forum.