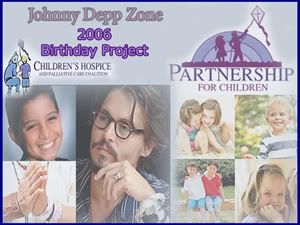 The Johnny Depp Zone is proud to announce that we will be sponsoring a charitable campaign in honor of Johnny Depp's birthday this year. Our chosen charity is the Children's Hospice founded by Lori Butterworth and Devon Dabbs.
Johnny Depp has been wearing a silver-and-leather bracelet in support of the hospice, which aids seriously ill children and their families, for several months: you can see it in his press conference picture HERE ,and in photos from the hand-and-footprint ceremony at Grauman's Chinese Theatre. The inscription on the bracelet reads, "Today is a gift . . . have fun!" You can find much more information about the hospice on the "Johnny's bracelet" thread on our 2006 Birthday Project forum.
Many Zone members are already wearing the beautiful "Today is a gift" bracelets just like Johnny's. It would be especially meaningful to buy and wear such a bracelet in honor of Johnny Depp's birthday, since his art and his presence in our lives has been such a gift to all of us. We also have a Paypal link for Deppheads who prefer to make donations to the Children's Hospice.
Watch also for an upcoming FanArt design challenge–we will be looking for an appropriate graphic to use on JDZ Birthday Project fundraising T-shirts and other merchandise. And thanks very much to Shadow for designing our 2006 Birthday Project collage!
The founders of Children's Hospice have agreed to participate in the Johnny Depp Zone's Birthday Project and are delighted that we have chosen to work with them. They wrote: "We are amazed at how thoughtful you all have been! […] We are so honored. Sending only love, Devon and Lori."
We know that Johnny Depp's legion of fans will have plenty of love to return to the children who need it most.