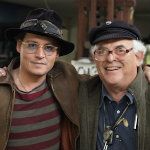 The photo at left shows Johnny Depp with his arm around artist Ralph Steadman, well-known and beloved to Depp fans for his illustrations of Hunter S. Thompson's works, including the iconic images from Fear and Loathing in Las Vegas. Steadman's life and career is being celebrated in a documentary entitled For No Good Reason, directed by Charlie Paul, which will premiere at the BFI London Film Festival in October. Screenings are scheduled for October 12, 13, and 14; ticket information is available HERE.
"Ralph Steadman is most frequently celebrated for his brilliant illustrations accompanying the writings of Hunter S Thompson, and their collaborations defined the Gonzo school of journalism," writes the film festival's Michael Hayden. "Charlie Paul's intimate documentary portrait, filmed over 15 years, presents Steadman as a driven artist with a voracious creative instinct. Johnny Depp appears at Steadman's home studio to observe his fascinating working process, there are tributes from key collaborators and acolytes, rare footage from the Gonzo years and beyond, and some of the iconic work is animated for the first time." To see a larger version of the photo of Johnny with Ralph Steadman, CLICK HERE.
The Zone thanks Emma for sharing the news; you can read more about the Ralph Steadman documentary For No Good Reason on the Zone's News & Views forum.