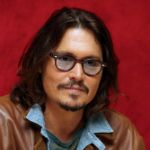 Damien Echols of the West Memphis Three has written a memoir called Life after Death, to be published on September 18, 2012. Damien will kick off his book tour at a legendary venue — the Barnes & Noble bookstore at Union Square in New York City — on Friday, September 21, and he will have a legend at his side: Johnny Depp! As Damien just tweeted, "My first book signing and talk will be in NYC,at the Barnes&Noble at Union Square. Sept 21st. My brother,Johnny Depp will be helping out." We're sure New Yorkers will give the duo a warm welcome.
Damien's book has received outstanding reviews in advance of publication. Publishers Weekly calls Life after Death a "searing, finely wrought memoir [. . .] a heart-wrenching and simple commentary on American prison life." Kirkus Reviews writes: "Exceptional memoir by the most famous of the West Memphis Three — bare facts alone would make for an interesting story. However, Echols is at heart a poet and mystic, and he has written not just a quickie one-off book to capitalize on a lurid news story, but rather a work of art that occasionally bears a resemblance to the work of Jean Genet. A voracious reader all his life, Echols vividly tells his story — [and] effectively displays his intelligence and sensitivity, qualities the Arkansas criminal justice system had no interest in recognizing during Echols' ordeal. Essential reading."
Many thanks to humiliatedgrape for breaking the news. Life after Death is available for pre-order from Amazon in hardcover ($16.84) and Kindle ($12.99) editions, and will be available at your local bookshop on September 18th. You can read more about the Union Square appearance on the Zone's News & Views forum. To see the cover of Life after Death, CLICK HERE.