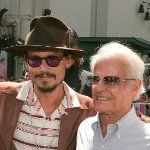 Beloved producer Richard D. Zanuck died today at his home in Los Angeles after suffering a heart attack; Mr. Zanuck was 77. Johnny Depp fans know and love Mr. Zanuck for his fearless championing of the work of Tim Burton: Mr. Zanuck produced Tim's Planet of the Apes and Big Fish, as well as the Burton-Depp collaborations Charlie and the Chocolate Factory, Sweeney Todd, Alice in Wonderland, and this year's Dark Shadows. The son of 20th Century-Fox mogul Darryl F. Zanuck, Richard Zanuck grew up in the movie business and spent his life as a studio executive and, later, an independent producer. While executive VP at Fox, Mr. Zanuck shepherded classics like The Sound of Music, Butch Cassidy and the Sundance Kid, Patton, and The French Connection to the screen; later, with partner David Brown, Zanuck produced 1973's Best Picture The Sting, and Steven Spielberg's first big-screen successes, The Sugarland Express and Jaws.
Zanuck and Brown produced 1989's Best Picture winner Driving Miss Daisy; they also were honored with the Irving G. Thalberg Memorial Award in 1991 and the Producers Guild of America's David O. Selznick Lifetime Achievement Award in 1993. Mr. Zanuck is survived by his wife, Lili Fini Zanuck, his sons Harrison and Dean, and nine grandchildren.
The Zone thanks Chenault for sharing the news; you can read more about Richard Zanuck on the Zone's News & Views forum. We send our condolences to Mr. Zanuck's family and to the artists who were privileged to work with him over the years. We know how much he will be missed, and we grieve with you.