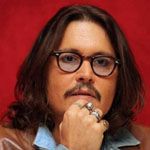 We're celebrating the 8th birthday of the Johnny Depp Zone at this site with a gift for Deppheads everywhere. We have added a new section to the Johnny Depp Zone Archives: Movie Lore!
The Movie Lore Archive contains articles about Johnny Depp's films. Although these are not interviews with Johnny himself, these pieces offer fascinating behind-the-scenes glimpses of how some of our favorite movies were made. In Movie Lore, you will find interviews with directors, producers, writers, cinematographers, designers and fellow actors, as well as more general articles on "the making of" a particular film.
What we are showing you today is only the beginning — have many more articles waiting in the wings and we'll add them to Movie Lore as our time and resources permit. You can access Movie Lore HERE or via the JDZ Archives button above.
Many thanks to Theresa, who designed the Movie Lore Archive, and to all the Zoners who have donated material to it. It's always a pleasure to learn more about the process -— part art, part serendipity — of moviemaking.