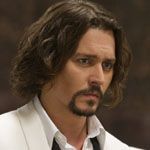 Rob Marshall's remake of the 1934 classic The Thin Man, with Johnny Depp in the iconic role of urbane sleuth Nick Charles, was set as the director's next film; now Deadline.com reports that the projected November starting date is unlikely for a number of reasons. First and foremost, Warner Bros. has not yet given the project a green light, and the recently submitted budget, rumored to be around $100 million, will probably need some trimming to satisfy the WB management. "The studio hasn't been shy about pulling back on films like Arthur & Lancelot and Akira over budget and redeveloping them for cost," reports Deadline's Mike Fleming. "I'm told there isn't a big rush here because Depp wants to take some time between films." This probably means that the actresses auditioning for Nora will have to wait a while for a decision, too.
Rob Marshall won't be idle in the meantime; he has been developing the Sondheim musical Into the Woods for Disney and will likely film that next.
The Zone thanks FANtasticJD for sharing the news; you can read more about The Thin Man on the Zone's News & Views forum. The Deadline.com story is available HERE.