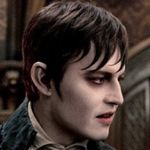 Another passion project of Johnny Depp's reaches movie theaters today, as Tim Burton's re-imagining of Dark Shadows opens, with Johnny in the role of vampire Barnabas Collins. "Their affection for the original is clear, the performances are uniformly wonderful and it gives Burton room to breathe in a way we haven't seen in years," writes John Mitchell of MTV. "Depp's Barnabas is an old-fashioned gentleman trapped in the body of a monster, and the actor never lets that fact get lost, even when the film's myriad subplots pull him in a hundred different directions. In a testament to how winning Depp is, he's able to play a 200-year-old vampire in (occasionally too obvious) white makeup without sucking all the air out the room, leaving room for the supporting players to soar."
Box office competition will be tough, with the record-setting The Avengers entering its second week, but hopefully moviegoers will have time to investigate the quirky pleasures of Collinwood Manor, too.
Stephen Rea of the Philadelphia Inquirer calls the movie "merrily macabre" and notes that "Dark Shadows is a nutty romp that's as much about celebrating a significant blip in the pop-cult continuum as it is a tale of bloodsucking, of grudge-holding, and the stress involved in maintaining a 200-room, two-century-old house.[. . .] Just when the whole vampire thing was beginning to feel old, Depp and Burton have come along to make it feel, well, very 1972 again," Rea observes. "Cool."
You can read much more about all things Dark Shadows on the Zone's News & Views forum.