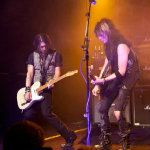 When the world premiere of Dark Shadows concluded in Los Angeles on Monday night, Johnny Depp and his castmates adjourned to the nearby Egyptian Theatre for a rocking afterparty . . . and we mean that in the literal sense. Alice Cooper (whose music is prominently featured in Dark Shadows) and his band took the stage, and were joined by Aerosmith's Steven Tyler and Joe Perry — and by Johnny! For photos of Johnny playing guitar at the Dark Shadows afterparty, CLICK HERE, HERE, and HERE.
Later, in his appearance on Jimmy Kimmel Live, Johnny talked about what that experience meant to him.
JIMMY: You had a big party next door to us last night here for Dark Shadows, [. . .] and you had some impressive musical guests. Normally they have a DJ over there playing Lady Gaga songs —
JOHNNY: He wasn't available, so we had Alice Cooper instead.
JIMMY: Alice Cooper?
JOHNNY: And Steven Tyler and Joe Perry from Aerosmith.
JIMMY: And you, too. You jumped on stage with these guys.
JOHNNY: I was, you know, lucky enough to be invited up on stage as well.
JIMMY: Is that the best — is that, like, as much fun as it gets for you?
JOHNNY: Oh, yeah. I mean, it's surreal as anything, because I started out as a musician, so these guys were my heroes growing up.
Many thanks to Moonbeam and to Cathy at Johnny Depp Rocks! for sharing the photos; readers particularly interested in Johnny's musical career will find a treasure trove of information HERE. You can read more about the Dark Shadows premieres and promotion on the Zone's News & Views forum.