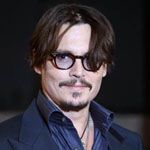 Which lucky thespian will don glamorous gowns and trade witty remarks with Johnny Depp while sipping martinis and, oh yes, solving an intricate murder case? While Rob Marshall's remake of the Dashiell Hammett classic The Thin Man has always had its leading man attached — Johnny Depp will play the suave sleuth Nick Charles — the plum role of Nora, Nick's partner in life and crime-solving, has not been cast. Now things may be changing; Deadline.com's Mike Fleming reports that Marshall will start holding meetings "next week [. . .] to find who'll play Nora in the Warner Bros remake of The Thin Man."
And who might be taking those meetings with the director next week? Here's a list of names Fleming has been hearing prominently mentioned as potential Noras: "Eva Green, Amy Adams, Emma Stone, Carey Mulligan, Rachel Weisz, Kristen Wiig, Emily Blunt and Isla Fisher." Fascinating!
The Zone thanks FANtasticJD for sharing the news; you can read more about this story on the Zone's News & Views forum. Mike Fleming's report is available HERE.