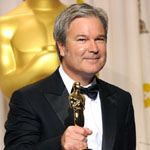 Congratulations to director Gore Verbinski, whose passion-project Rango won the Academy Award for Best Animated Feature on Sunday night, besting A Cat in Paris, Chico & Rita, Kung Fu Panda 2 and Puss in Boots. Rango, which is Verbinski's first animated film, features a stellar vocal cast led by Johnny Depp, Isla Fisher, Bill Nighy, Alfred Molina, and Abigail Breslin.
Verbinski attended the ceremony and collected his first Oscar from presenter Chris Rock. To see a larger version of the photo of the director holding his Oscar, CLICK HERE, and to see a photo of Verbinski delivering his acceptance speech, CLICK HERE. Here's what Verbinski said to the audience in the theater and those watching around the world:
GORE VERBINSKI: Thank you so much. This is crazy! Someone asked me if this film is for kids, and I don't know . . . but it was certainly created by a bunch of grown-ups acting like children, and we just had the best time. I want to thank the real-world chameleon, Mr. Johnny Depp, and the entire cast and crew for coming out and playing. And to the artists–Crash McCreery, Jim Byrkit, Hal Hickel, Tim Alexander, John Knoll, and everyone at Blind Wink and ILM — who put so much passion in every frame. And to the early believers, John Logan, Graham King, Brad Grey and everyone at Paramount, who really let us try something different. And to my beautiful wife and my family, who inspire me every day with their smiles and laughter. It doesn't get any better than this. Thank you.
The Zone thanks you, Mr. Verbinski, for making a wonderful film and carving out a place in movie history for the denizens of Dirt. Now it's time to saddle up for The Lone Ranger!
The Zone thanks all the Zoners who took part in a lively Oscar-night discussion; you can read more about the awards on the Zone's News & Views forum. Many thanks also to Theresa for sharing pictures and updating our Rango banner.