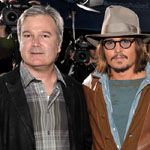 Drew Taylor of The Playlist snagged a pre-Valentine's Day interview with Gore Verbinski and took the opportunity to ask the director for an update on his soon-to-shoot big-budget Western, The Lone Ranger, which stars Johnny Depp and Armie Hammer. How are things going? "It's going great," Verbinski replied. "It's going to be photo-real and it's going to be interesting in its own way but it's a complete stepping back over the fence from Rango," the director promised. Don't expect to find werewolves howling on Verbinski's range, though — despite what you might have read on the Internet, there's nothing like that in The Lone Ranger.
The Playlist's Taylor was curious about whether certain rumored "supernatural elements of the script would be maintained" or cut as part of the budget-trimming Disney required to green-light the movie, noting that "at one point" the script had been "said to feature a monstrous Wendigo as well as a pack of werewolves."
Verbinski was happy to set the record straight and torpedo the werewolf storyline once and for all. "I don't know where this idea of werewolves came from," he told The Playlist. "It's never been in any draft I've worked on." According to Verbinski, the only "supernatural elements" in the Lone Ranger script are "a kind of Native American overlay of omens and other things happening that we don't fully understand."
In a live chat with readers of the Los Angeles Times on Friday, Verbinski also shot down rumors that shooting of The Lone Ranger had been "delayed" again. "The Hollywood Reporter is saying TLR has been delayed again," @ Mrs Me wrote. "Please say it isn't so …" Verbinski replied, "Delayed again? Really? I've got my cowboy hat on! No, in all seriousness, we begin shooting in two weeks. Time for everyone to stop talking about TLR and let us go make it!" Amen. As soon as the Oscars are over, The Lone Ranger rides.
The Zone thanks Emma for sharing The Playlist interview and Theresa for sharing the transcript of the live chat. You can read more about The Lone Ranger on the Zone's News & Views forum. The Playlist interview, which includes information about Verbinski's other projects, is available HERE.