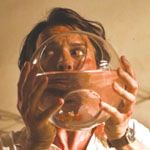 Treat yourself to a special Valentine's Day gift and pick up a personal copy of Bruce Robinson's The Rum Diary on Blu-ray or DVD; the film will be available at retail outlets in the U.S. and Canada today. An adaptation of Hunter S. Thompson's first (but long unpublished) novel, The Rum Diary is itself a valentine to the Good Doctor, and to the Puerto Rico he knew as a young journalist at the end of the Eisenhower era. The story follows freelance journalist Paul Kemp (Johnny Depp), who takes a job with a struggling San Juan newspaper in 1960 and finds temptations of all sorts, few of them resistible. Paul falls under the spell of the free-spirited Chenault (Amber Heard), the fiancee of an American businessman who wants Kemp to publicize his latest shady real estate development. But will Kemp sell out, or fight the good fight? "Depp and company always remain true to Thompson's irascible spirit," notes critic Kathleen C. Fennessey. Enough said.
Special features are rather thin, but include "A Voice Made of Ink and Rage: Inside The Rum Diary," a 12-minute feature; and "The Rum Diary Back-Story," a 45-minute documentary by Wayne Ewing, an authority on Hunter Thompson.
The Rum Diary is also available via Movies On Demand effective today, so you can watch it at home, anytime! Many thanks to Rossana Woo for that news, and to Sleepy and Emma for information about the DVD release. You can read more about The Rum Diary's release on the Zone's News & Views forum.