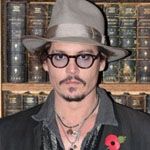 Johnny Depp and Bruce Robinson took their road show to the hallowed halls of Oxford on Saturday night, as they screened The Rum Diary and spoke to an audience of 500 students at the Oxford Union. Demand was so intense that Union president Izzy Westbury had to resort to a ballot system to award the tickets for the Depp-Robinson Q&A; she told the BBC that "she was putting all the applications in a spreadsheet and then 'pressing the random button.'" Tweets and blog posts from students report that Johnny was charming, witty, and entertaining; @TheWandererMag sent this tweet: "Just been to see Johnny Depp speak at the Oxford Union; a great charismatic speaker."
To see a larger version of the portrait of Johnny at the Oxford Union, CLICK HERE, and to see pictures of the panel discussion, CLICK HERE and HERE. Many thanks to @JoolsAshton for sharing a personal photo of Johnny outside the Union in a throng of well-wishers; you can see it HERE. Visit Tam's OX eh MORON blog to see a great set of photos taken at the event HERE.
Many thanks to Emma for sharing articles, pictures, and tweets, and to Theresa for pictures. You can read much more about Johnny's visit to Oxford on the Zone's News & Views forum.