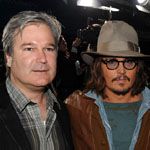 The complicated negotiations surrounding the future of Jerry Bruckheimer's Lone Ranger have taken some new twists in recent days; according to Deadline.com, Mr. Bruckheimer and director Gore Verbinski will be presenting Disney's Rich Ross with a newly trimmed budget for the film, something "in the $215 million range." That's a significant reduction from the previously proposed budget, variously estimated at $250 to $275 million, which caused Disney to shut down production last month. "That's still not the $200 million number which the studio really wanted," Deadline reports, "but is lower than the $220 million at which Disney indicated to all concerned it might compromise."
At Disney's D23 Expo in late August, Rich Ross told the press that he still wanted to make Lone Ranger: "I'm hoping to do it. [. . .] I think it's a compelling story and no one wants to work with Jerry and Johnny more than me, so we'll see how it works." The conspicuous omission of Verbinski's name in that statement raised speculation that Disney might want to move forward with a different director.
But if Disney jettisons Verbinski, they will also need to look for a new Tonto. "[I]nsiders tell us that Johnny Depp [. . .] really wants to make The Lone Ranger but won't do it without Verbinski directing," Deadline reports. Johnny is known for "unusual loyalty" to his favorite directors and has worked with Verbinski four times, most recently in Rango. So if Disney wants to keep Johnny in Lone Ranger, the studio has "no choice but to keep on Verbinski." With all their current concern for their bottom line, Disney won't want to lose the actor who just starred in two films that grossed more than a billion dollars each — Alice in Wonderland and On Stranger Tides. That would make the shareholders very unhappy. So will Rich Ross accept the compromise and greenlight the new budget? We should know soon.
The Zone thanks FANtasticJD for breaking the news; you can read more about Lone Ranger on the Zone's News & Views forum. The Deadline article is available HERE.