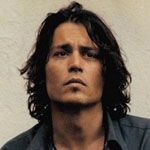 Interesting news from director Julian Schnabel, who told The Playlist's Jeff Otto that his next film project could be In the Hand of Dante, based on the novel by Nick Tosches. Infinitum Nihil picked up the rights to In the Hand of Dante in 2008, but Johnny Depp had declared his affection for the novel much earlier, in an interview with Gregory Katz published in 2003. "I read anything by Nick Tosches," he told Katz. In a joint interview with Tosches that aired on French television in 2002, Johnny pronounced Tosches "a kindred spirit" and "one of a handful of writers [. . .] who has the ability to keep literature alive." In the Hand of Dante is a literary tour-de-force which weaves together two separate stories: one set in the 14th century, as Dante tries to finish The Divine Comedy, and the other set in 2001, where Dante expert Nick Tosches is asked by black market traders to authenticate what might be Dante's original manuscript of his masterwork.
Schnabel appears to share Johnny's enthusiasm for the novel: "There's a great book called In the Hand of Dante by Nick Tosches," Schnabel told The Playlist. "It belongs to Johnny, but I'm not going to make it for a couple of years. We're gonna work on writing it, developing it. We didn't sign anything. It's just something Johnny asked me to read — and I think it's a great book so maybe you should read it. It's pretty beautiful. It's about everything."
Schnabel directed Johnny in Before Night Falls, in which Johnny played two memorable roles: the ruthless interrogator Lt. Victor, and the flamboyant transvestite Bon Bon. Schnabel received an Oscar nomination as Best Director for 2007's The Diving Bell and the Butterfly. He is also a well-known artist and painter. He took the photo of Johnny, above left, in 1999: you can see a larger version HERE.
The Zone thanks Theresa for breaking the news; you can read more about the Julian Schnabel interview on the Zone's News & Views forum.