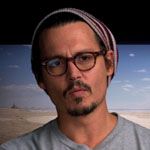 In a delightful behind-the-scenes video for Gore Verbinski's first animated film, Rango, Johnny Depp and members of the voice cast describe what it was like to be able to work together and act out their parts — something rarely done for an animated feature. "It just gives a bunch of grownups an opportunity to be silly," Johnny said, laughing. However, a split screen that displays the actors and their animated alter egos –and the amazing resemblance between them — shows the clever method that underlies the apparent madness.
"Rango is a lizard attempting to adapt to his surroundings," Johnny explained. "He's trying to figure out what he's supposed to be — like most of us in life." Rango takes up residence as the new sheriff in a corrupt desert town, which results in danger and hilarity. "It's certainly like nothing I've ever done before, or any of us have ever done before. Instead of motion-capture," Johnny said, "it's kind of emotion-capture, using the actors as a reference for the motion of the animated character."
Bill Nighy, who plays the villain Rattlesnake Jake, also enjoyed Verbinski's method of shooting the film. "You raise your game, because you're working with other people," Nighy said. "It's more of a natural acting experience."
To see a larger version of the screencap of Johnny Depp from the Rango interview, CLICK HERE, and to see a screencap of Johnny performing as Rango, CLICK HERE. The Zone thanks AnaMaria for sharing her screencaps with us.
If you haven't seen the Rango behind-the-scenes video, or you would like to view it again, it's available on Yahoo!Movies HERE. Rango arrives in movie theaters on March 4, 2011.