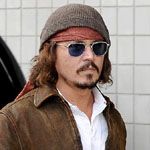 Johnny Depp spent the weekend in Miami, Florida, enjoying time with his family. Johnny attended the Miami Dolphins football game at Sun Life Stadium on Sunday, December 19th, with Vanessa Paradis and their children, and security chief Jerry Judge. The previous evening, Saturday, December 18th, Johnny was spotted backstage at Miami's American Airlines Arena at the Justin Bieber concert with Lily-Rose and Jack; Bieber even mentioned his famous guest during the concert, which must score extra points on the Cool Dad Meter.
The photo at left shows Johnny outside Sun Life Stadium at the Dolphins game; to see a larger version, CLICK HERE. To see a photo of Johnny inside the stadium, with the crowd in the background, CLICK HERE, and to see him signing an autograph, CLICK HERE. That's Jerry Judge directly behind Johnny. We haven't seen any photographs of Johnny with Justin Bieber, but you can see Johnny posing with a fan at the concert HERE. Singer-songwriter Avery has also posted a photo of herself with Johnny on her Facebook page; you can see the photo (taken backstage at the Bieber concert) HERE.
The Zone thanks Emma, Sams Sweetheart, and Theresa for sharing the news. Photos of Johnny in Miami are also available at Just Jared and Accidental Sexiness.