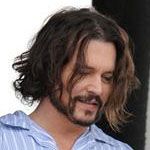 Double congratulations go to Johnny Depp, who this morning received two nominations for Best Peformance by an Actor in a Motion Picture – Comedy or Musical from the Hollywood Foreign Press Association's for their Golden Globe Awards. Johnny was nominated for his roles as the Mad Hatter in Tim Burton's Alice in Wonderland and Frank Tupelo in The Tourist. Outstanding! Johnny's co-star Angelina Jolie received a Best Actress nomination for her role in The Tourist. Both The Tourist and Alice in Wonderland were nominated as Best Motion Picture – Comedy or Musical; Danny Elfman's score for Alice also received a Golden Globe nomination.
These are Johnny Depp's 9th and 10th Best Actor Golden Globe nominations; he won Best Actor in a Motion Picture – Comedy or Musical at the 2008 awards for his performance in Sweeney Todd: The Demon Barber of Fleet Street.
Congratulations to all the nominees! The Golden Globes will be broadcast live from the Beverly Hilton Hotel on NBC on Sunday, January 16, 2011, beginning at 5 p.m. Eastern time.
The Zone thanks Intodadepps for breaking the news. You can read much more about the Golden Globes on the Zone's News & Views forum.