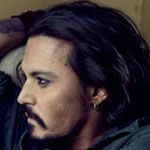 In the new issue of Vanity Fair, Patti Smith asks Johnny Depp if it is harder to play a character like Frank Tupelo in The Tourist because he is not flamboyant or eccentric. "The great challenge of a character like Frank, for me, is that he's Everyman, you know, Mr. Ordinary — not a simpleton, just ordinary. He's a math teacher. I was always fascinated by people who are considered completely normal, because I find them the weirdest of all."
PATTI SMITH: So where did you find Frank?
JOHNNY DEPP: He was sort of a combo platter for me, from certain people I've known over the years. I knew an accountant who would travel — he was super-straight, very, very straight guy — and he would travel all over the world to photograph places that had street signs or businesses that had the same name as his last name. He'd go to Italy, he'd go to Shanghai, and he'd take photographs. That was his kick.
PATTI SMITH: He had an eccentricity that no one sees. Everyone sees the eccentricities of an artist. But eccentricities like Frank's are so subtle and so particular.
JOHNNY DEPP: It was guys like that that I thought about. Frank, for example, who had quit smoking, could be absolutely fascinated with that electronic cigarette, and the moving parts of it, and being able to explain it to someone in great detail.
PATTI SMITH: Frank has some really nice pajamas. Cotton. Light blue. Do you wear pajamas?
JOHNNY DEPP: Occasionally I do. Occasionally, when it's cold.
PATTI SMITH: Do they have feet on them?
JOHNNY DEPP: I don't have the feet. I have not gone for footed pajamas yet. However, I'm not — I wouldn't, you know, withdraw the idea.
To see Johnny Depp on the set of The Tourist wearing the famous blue pajamas, CLICK HERE. That's director Florian Henckel von Donnersmarck to the right and Johnny's stunt man on the left.
The Zone thanks FANtasticJD for sharing the Vanity Fair interview; you can read much more on the Zone's News & Views forum.