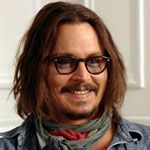 Johnny Depp charmed the press at today's gathering in Paris to promote his upcoming film with Angelina Jolie, The Tourist, answering questions about his approach to this "everyman" character with his usual humor and grace. Here's an excerpt from the Q&A session as reported by Molly Goodson:
Q: Many of your most famous characters have tons of elaborate costumes and makeup. What did you bring to your character Frank?
JOHNNY DEPP: The story, the script, and the character dictate where you're going to go. I imagine someone I may have known in the past that reminds me of a character. [The Tourist's] Frank has this heavily groomed beard, which I by the way can't grow, so [it]was all glued on. It's a perfectly landscaped beard, which came from a guy I knew years ago and I was always fascinated with, because it looked like something in a jar. I couldn't believe someone could actually treat [a beard] so pristinely.
Q: In The Tourist there's a scene where you're in pajamas; how did that come to be?
JOHNNY DEPP: I wanted footie pajamas with little bunny ears, but [the director] wouldn't go for it. Initially he was supposed to be either in a towel or his underpants, but there was something about a grown man in pajamas that you'd pull out of Leave it to Beaver's dad's drawer. The imagery, juxtaposed with the background of Venice, I just thought there was something really funny about it.
Q: The director Florian Henckel von Donnersmarck said you added the humor to the film, what is the story behind that?
JOHNNY DEPP: I thought, if you took this guy and put him in these situations, especially if he's going to stick around, he has to recognize the level of absurdity in what he's going through. Also, if I see a gag coming around the corner, I snatch it up. I can't help myself. You spend 90% of the time when you're working trying to make your costar laugh, and I guess some of it's in the film.
The Zone thanks Emma for sharing the interview and AnaMaria for the screencap of JD at the Paris press junket. To see a larger version, CLICK HERE. You can read much more about The Tourist on the Zone's News & Views forum.