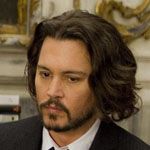 Entertainment Tonight aired behind-the-scenes footage from the set of The Tourist during their November 17th broadcast that included an interview with Johnny Depp about his newest role. Long known for playing quirky, outside-the-mainstream individuals, Johnny here takes on a different kind of character, someone he describes as an "everyman." Frank, the American tourist, is "definitely an everyman who is approached by this enchantress, this unbelievably beautiful, interesting, cultured vixen, and is taken on the ride of his life," Johnny says. "What would you do? How far would you go? How much danger would you allow yourself to be in, just for the possibility of whatever poetry might commence between you and that woman?"
Angelina Jolie describes her character, Elise, as "a bit of a mystery" but "very much a lady. She's one of those women that lives in a world of quiet luxury and elegance." Elise draws Frank into a whirlwind romance "that soon becomes a deadly game of cat and mouse," says ET's Mark Steines.
Angelina tells ET that working with Johnny was "a dream of mine. [. . .] There's something very likable about him. He's a nice person, and I think that kindness and that fun comes across in anything he does. But this is more of a traditional leading man [role] for him, so it's been kind of fun to get to watch him play that traditional leading man, but he is bringing a real charm to it."
The Zone thanks Theresa for sharing the Entertainment Tonight story. You can read much more about The Tourist on the Zone's News & View forum.
The Tourist opens December 10th.