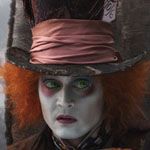 It's that time of year again–ah yes, awards season is beginning! The preliminary balloting has begun for nominations for the 2011 People's Choice Awards; you can vote daily for Johnny Depp for Favorite Movie Actor, Mia Wasikowska for Favorite Movie Star Under 25, and Alice in Wonderland for Favorite Movie. You can also write in Alice in Wonderland as a nominee in other categories, like Favorite Family Movie and Favorite Comedy Movie. Voters can choose as many as five nominees per category, and the top five vote-getters in each category will become official People's Choice Award nominees. You can cast your ballot HERE.
Now in its 37th year, The People's Choice Awards honors fan favorites in film, television, and music, and offers the public a unique opportunity to make their voices heard. The People's Choice Awards will air on CBS on Wednesday evening, January 5, 2011.
The Zone thanks MyManDepp for sharing the news. You can read more about The People's Choice Awards on the Zone's News & Views forum.