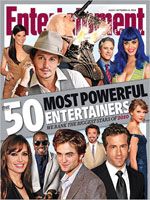 Who are the most influential performers on the planet? According to Entertainment Weekly's latest issue (cover date October 15, 2010), the #1 position on their "Power List" belongs to Johnny Depp! Congratulations, Johnny! As for criteria, "[W]e based our calculations on a formula that included both hard, crunchable numbers (box office grosses, TV viewers, albums sold) with less tangible factors, like a star's influence within their industry or general command of the pop cultural stage," says EW. Here's what the EW scribes had to say about Johnny:
"Depp's career has been a long, strange trip — and ending up the most powerful actor in Hollywood is the weirdest twist of all. He's rarely followed the standard playbook, choosing roles as misfits (Edward Scissorhands, Gilbert Grape) and oddballs (Ed Wood, Ichabod Crane) over the usual romantic leads and action heroes. With his uncompromising gonzo turn as Capt. Jack Sparrow in Pirates of the Caribbean: The Curse of the Black Pearl in 2003, his stardom went supernova. In the wake of smashes like the Pirates films, Charlie and the Chocolate Factory, and Alice in Wonderland, Depp can do anything he wants. And the one — maybe the only — thing you can be sure of is that he'll do exactly that."
The Zone thanks Emma for breaking the news, Joni for additional reporting, and FANtasticJD for sharing her scans. To see a larger view of the EW cover, CLICK HERE, and to see a caricature of JD that appeared in the magazine, CLICK HERE. You can read more about the EW Power List on the Zone's News & Views forum.