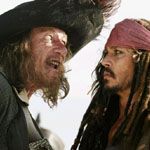 Filming of Pirates of the Caribbean: On Stranger Tides will shift to another iconic Hawaiian location for July 15th and 16th — Halona Cove, where the famous From Here to Eternity on-the-beach kiss between Burt Lancaster and Deborah Kerr was shot. The Department of Parks and Recreation told local media that the filming "will result in the closure of Halona Blowhole and the Koko Head Rifle range" on Thursday and Friday. "[T]he Halona Lookout and access to the adjacent cove will be off limits out of concern for public safety while the film crew works with large pieces of equipment. [. . .] The closure is also to keep camera views clear," city officials told the Star-Advertiser.
The Koko Head Rifle Range will serve as base camp, housing the trucks and equipment for On Stranger Tides. The production company has offered to cover the cost of opening the rifle range on two future dates to make up for the closure on Thursday and Friday. "We'll likely use the funds to keep open the range on two of the furlough days when it would normally have been closed," Mayor Mufi Hannemann told the press. "We appreciate the public's patience over the next two days."
Locals report seeing crews placing interesting debris along the shoreline, but the only recent sighting of Johnny Depp as Captain Jack Sparrow was on a motorboat coming into Kalaeloa Harbor on Tuesday (July 13). To see a photo of JD on the boat, CLICK HERE; look for security chief Jerry Judge to the right.
The Zone thanks Emma and Bon Bon for the news and photo. You can read much more about the filming of On Stranger Tides on the Zone's News & Views forum, but beware of spoilers!