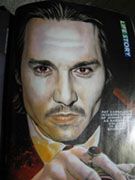 The Tim Burton version of Dark Shadows, starring Johnny Depp as Barnabas Collins, has a new writer with a proven talent for blending diverse genres and dealing with creatures of the night: Seth Grahame-Smith, best-selling author of Abe Lincoln Vampire Hunter and Pride and Prejudice with Zombies. Mike Fleming at Deadline.com reports that Dark Shadows "is slated to begin production in January at Warner Bros. [with] Depp's Infinitum Nihil and Graham King's GK Films producing." Fantastic news!
Infinitum Nihil and GK Films first announced that Johnny Depp would appear in Dark Shadows for Warner Bros. nearly three years ago (July 27, 2007). Producer Richard Zanuck later told the press of plans to film in the UK in the autumn of 2009, but with Tim Burton fully occupied with finishing his Alice in Wonderland, Dark Shadows was postponed.
According to Variety, Warner Bros. has not yet set a release date for Dark Shadows, but Dave McNary writes that the film "was included as one of the projects covered in a deal — announced in late April — between Imax and Warner Bros. to release up to 20 Warner films in Imax format through 2013."
The Zone thanks Theresa and FANtasticJD for breaking the news; you can read much more about Dark Shadows on the Zone's News & Views forum. The artist's rendering of Johnny Depp as iconic vampire Barnabas Collins was done by Pat Carbajal and is available in the latest issue of Film Fantasy Magazine; to see a larger version, CLICK HERE. Many thanks to Shadowydog for sharing the scan.