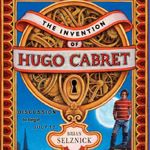 Oprah Noodlemantra's Book Club, the oldest Johnny-Depp-related book club on the net, begins its discussion of Brian Selznick's award-winning The Invention of Hugo Cabret today. Martin Scorsese is currently directing a major motion picture based on Selznick's book and starring Sir Ben Kingsley, Sacha Baron Cohen, Asa Butterfield, and Chloe Moretz, with Jude Law, Ray Winstone, Christopher Lee, Helen McCrory, Frances de la Tour, Richard Griffiths, and Mathieu Amalric in supporting roles. Hugo Cabret is being produced by Scorsese, Graham King and Tim Headington (GK Films), and Johnny Depp (Infinitum Nihil). Christi Dembrowski, Infinitum Nihil's president, is one of the film's executive producers. That's a very impressive group!
ONBC moderators Liz and DeppintheHeartofTexas have shared some fascinating background tidbits with us — you can find them on the ONBC forum. Stop by and join in the discussion; it's a great chance to get acquainted with this fascinating story, which is set in the secret world of a Paris train station in the 1930s. The Invention of Hugo Cabret was a 2007 National Book Award Finalist for Young People's Literature; it won the prestigious Caldecott Medal for achievement in illustration of children's literature.
For each ONBC selection, Liz designs a special book jacket which incorporates Johnny Depp into the cover design. Here's her charming design for The Invention of Hugo Cabret. You can find the ONBC discussion HERE. Many thanks to Liz and DITHOT for their outstanding work!