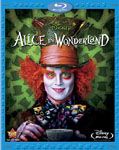 Deppheads and Burtonites can kick off June by bringing home the billion-dollar box office bonanza Alice in Wonderland on Blu-Ray or DVD! The fantasy adventure starring Johnny Depp as the Mad Hatter, Mia Wasikowska as Alice, and Helena Bonham Carter as the Red Queen, is available in three different packages, all priced differently (of course): the deluxe Disney 3-Disc Blu-ray Combo Pack, which includes all 3 formats (Blu-ray + DVD + Digital Copy); or the 1-Disc Blu-ray and 1-Disc DVD versions.
Movie lovers with Blu-Ray players will find nine bonus features on the Blu-Ray version, including, according to Disney, "the making of the Futterwacken Dance, a look inside the world of the Mad Hatter and Johnny Depp's transformation, Tim Burton's vision for the movie and its characters, the visual effects of growing and shrinking of Alice, costume designs, music, stunts and more."
Three extras are included with the standard DVD: a featurette called "Finding Alice," a feature on The Mad Hatter, and a behind-the-scenes feature "on the different technologies used to create some of the most beloved characters in the film — Stayne, Tweedledee, Tweedledum, Bandersnatch, and the Red Queen." All of these are included on the Blu-Ray versions.
The single-disc DVD is listed at $29.99, the single-disc Blu-Ray at $39.99, and the Blu-Ray combo-pack at $44.99, but good discounts are available during the first week of release at all major retailers. The Zone thanks Theresa and Emma for sharing the news; you can read more about the Alice in Wonderland DVD release on the Zone's News & Views forum.