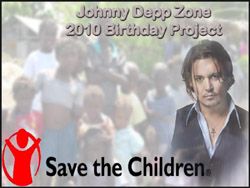 One of the Zone's favorite traditions is our annual birthday gift for Johnny Depp, called "The Birthday Project." Each year we choose a charity which is connected to Johnny's philanthropic interests–particularly his interest in helping children in need. We pool our modest contributions and make a Zone donation to a worthy cause in honor of Johnny Depp, as a way of celebrating and thanking Johnny for all the joy he has given us over the year. Due to the enormous disaster which struck Haiti with the earthquake on January 12th, and the desperate need of the survivors there, the Zone's 2010 Birthday Project will benefit Save the Children's Haiti Emergency Relief for Children! Here's wonderful news: our members have already donated more than $2,000! Thank you all so much!
Since the earthquake, Save the Children has distributed food to more than a quarter of a million Haitians, provided access to clean water and sanitation facilities to more than 221,000 people, and provided classroom tents and supplies so 41 schools could reopen. You can read much more about Save the Children's work in Haiti on our 2010 Birthday Project forum.
The Zone has a dedicated Paypal account for contributions to the 2010 Birthday Project; if you would like to join in our gift, you can make a donation by visiting our 2010 Birthday Project Forum and scrolling down to the Paypal button. If you would like to donate by check to Save the Children, directions are directly below the Paypal button on the announcement post.
The Zone would like to thank everyone who has already donated to the 2010 Birthday Project. Your generosity is truly heartwarming, especially in a year like this, when we are all facing tight budgets. If you haven't yet made a donation, there's still plenty of time—we will be accepting donations through Johnny's birthday on June 9th.
Let's reach out to help children in Haiti, and say "Happy Birthday" and "Thank You" to Johnny Depp!