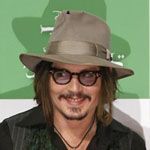 Alice in Wonderland's director and Mad Hatter teamed up for a joint press conference in Tokyo today before the Japanese premiere of the film, answering questions about their long-time collaboration and their approach to the ultra-successful adaptation of Lewis Carroll's classic. To see a photo of Tim Burton and Johnny Depp clowning around at the press conference, CLICK HERE, and to see a photo of them waving to the press, CLICK HERE. Regarding playing the Mad Hatter, Johnny Depp said, "For me to play the Hatter wasn't a great stretch by any means. In a sense I think the character was kind of already blooming inside, ready to show its face." And he had no trouble bonding with the character: "I do like hats," JD explained.
Tim Burton explained that he chose 3D for Alice in Wonderland because the technology seemed "the perfect mix of medium and material. [. . .I]t's just a great tool, if you love movies. It's a way to bring you into a movie in a way. Especially with Wonderland, which is such an off-kilter place, it becomes another character."
Johnny Depp and Tim Burton have now made seven films together, and JD told the Japanese press that he "never disagreed on anything" with Tim in the decades they had worked together. However, they did voice different opinions when asked what they would do if they had an experience like Alice's, and slipped into a wonderland. Johnny said he would gladly stay there, but Tim has had enough: "I was there for two years," he said, "so I'm ready to leave." Audiences, however, cannot get enough of Wonderland; Alice in Wonderland was the top film in the world for the third week in a row.
The Zone thanks Emma for news articles about the press conference and Evochka for the photo. You can read much more about Johnny's visit to Japan on the Zone's News & Views forum and the Pit General Discussion forum.