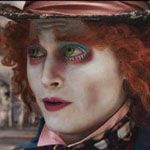 "Blockbuster" is too pale a term to describe the box-office performance of Tim Burton's Alice in Wonderland. The film earned $62 million in its second weekend, four times the total of its closest competitor, the new release Green Zone starring Matt Damon. "After holding extremely well throughout the week, the Disney film dropped a scant 47 percent its second weekend in theaters," reports Nicole Sperling of Entertainment Weekly. Alice in Wonderland's 10-day total is $208 million, making Alice the first $200 million-plus success of 2010. Alice has now earned more domestically than 2005's Charlie and the Chocolate Factory, making it the most successful Burton-Depp box-office collaboration in their seven films together.
The overseas box-office totals–more than $221 million–are just as staggering. Although the film has yet to open in many major markets–Japanese fans are hoping Johnny Depp will make it to their premiere on March 22nd–the worldwide box office total for Alice in Wonderland stands at an amazing $430 million after only ten days in release, a figure The Hollywood Reporter's Carl DiOrio describes as "surreal." We can't do better than that, Mr. DiOrio: surreal it is.
The Zone thanks Emma, Theresa, Snoopy Dances, and FANtasticJD for box-office updates; you can read more about Alice in Wonderland's success on the Zone's News & Views forum. Congratulations to Tim Burton and the Alice cast and crew!