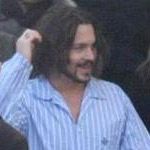 The paparazzi gathered in force around the Mercato del Pesce on the Rialto in Venice today, since the world-famous fish market was closed for business to allow filming of key scenes from The Tourist. According to la Nuova di Venezia, the sequence involves Johnny Depp's stunt double launching himself over a balcony and "landing on one of the tents that cover the front row of stalls for fruit and vegetables." An altercation with the police ensues; rumor has it that the scene ends with "a spectacular dive into the Grand Canal." All this derring-do takes place with Johnny Depp's character, Frank, clad in a pair of blue-striped pajamas.
To see a larger version of the photo of JD on the Mercato del Pesce set, CLICK HERE, and for another photo of the actor, this time surrounded by female admirers (what a surprise!), CLICK HERE. The ladies look extremely happy, don't they? This PHOTO shows JD discussing the scene with director Florian Henckel von Donnersmarck; you can see JD's stunt double in the top right corner of the picture.
At the end of the shooting day, despite the freezing cold, Johnny Depp stopped to greet well-wishers who had gathered to watch the filming. La Nuova di Venezia reports, "Greeted by cries at the end of each take, perhaps inspired by some of his staff [who] noted the tenacity of his admirers, and almost certainly touched by such devotion, Johnny Depp finally conceded to sign autographs, shake their frozen hands and even give a few kisses."
The Zone thanks Emma for news articles and photos from Venice; we also thank Evochka, AnaMaria and Theresa for sharing photos from The Tourist set. You can read more about the filming of The Tourist on the Zone's News and Views forum and the Pit General Discussion forum.